Gamma Knife Procedure in Paramus, NJ
The Gamma Knife Center at Valley Hospital helps patients in Franklin Lakes, Mahwah, Oakland, Ramsey, Wyckoff, Ridgewood, Glen Rock, Saddle River, Upper Saddle River, Woodcliff Lake, Old Tappan, Allendale, Montvale, Wayne and Paramus, Bergen County, Morris County, Essex County, Passaic County, Rockland County, Orange County, New Jersey, New York, and all across the United States.
Gamma Knife Treatment in Paramus, NJ
Though the name may sound like a surgical procedure, Gamma Knife is actually an advanced form of radiation therapy that uses multiple focused beams of radiation to target a highly specific area.
Because it is so focused, stereotactic radiosurgery does not affect as much of the surrounding tissue as traditional radiation therapy, such as whole brain radiation, resulting in fewer side effects. And, because it is minimally invasive, stereotactic radiosurgery does not carry any of the risks associated with surgery, has less post-procedural pain, and has a minimal recovery period.
Conditions Treated By Gamma Knife
Arteriovenous Malformations (AVM)
See How Gamma Knife
Has Improved Our Patient's Lives
"I am now experiencing a quality of life that I didn't think was ever possible again."
"I was just desperate for the treatment to get rid of the pain, and it worked. I'm a success story!"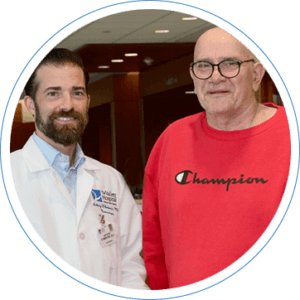 "As a patient, I want to feel that I'm in safe hands, and the entire time I knew I was."
Discover Our Patient's Most
Frequently Asked Questions
What Conditions are Treatable with Gamma Knife?
Generally speaking, Gamma Knife radiosurgery can be used to treat conditions of the head and neck, including brain tumors, vascular malformations and management of chronic pain.
Does Insurance Cover Gamma Knife Treatment?
One of the first concerns most people have when they find out they need to have surgery or a major medical treatment of any kind is whether or not their insurance will pick up the bill and how difficult it will be to find a doctor to provide the needed treatment.
What Does Gamma Knife Surgery Entail?
When you're getting ready to undergo a Gamma Knife procedure, knowing exactly what to expect will better prepare you for the day of treatment. Gamma Knife radiosurgery, unlike traditional surgery, doesn't come with strict rules, nor does it require that you get ready for a lengthy hospital stay.
Choosing a Gamma Knife Location in NY/NJ
When choosing a Gamma Knife surgery location in the tri-state area, look for a doctor who specializes in using Gamma Knife radiosurgery to treat your specific condition. For example, a Gamma Knife center may specialize in treating brain tumors but has no experience in managing trigeminal neuralgia.
Gamma Knife vs. Cyberknife: What's the Difference?
If you've recently been diagnosed with a condition of the brain or head, it is likely your doctor has recommended stereotactic radiosurgery as a treatment option. Gamma Knife and CyberKnife are two popular forms of stereotactic radiosurgery and while they are similar, there are differences to consider when choosing the right treatment option for you.
What To Know About Gamma Knife Radiosurgery Risks & Side Effects
Gamma Knife radiosurgery is not a type of surgery at all and does not involve any incisions or scalpels. Instead, it is a relatively noninvasive form of radiation therapy performed in an outpatient setting.
Get Your Questions Answered, By a Real Person.
Our Patient Liaisons are here to help you understand your next step. After discussing your specific case, they can help you navigate your medical records, answer insurance questions, and connect you with one of our nurses, at no charge to you.
For your convenience and safety, we offer both virtual and in-person consultations.